PUBLIC TRANSPORT INFORMATION AND REPORTS
RAIL, BUS, METHODS OF PAYMENTS AND ROADS
RIDDLESDOWN STATION IS IN LONDON TRAVELCARD ZONE 6.
UPPER WARLINGHAM IS ALSO IN ZONE 6 AND IS THE LAST STATION ON THIS LINE, WITHIN THE LONDON ZONES.
For those residents who are not regular users of Riddlesdown Station - Southern do at times run trains with 9, 10, 11 or 12 carriages. To be sure of getting off at Riddlesdown (from London), ensure you are in carriages 1 to 9, because these trains are longer than the platform and the doors on carriages 10, 11 and 12 will not open. Next stop is Upper Warlingham! Carriage 6 is usually by the exit at Riddlesdown on trains from London.
On trains from East Grinstead, it is usually carriage 4 by the exit. Next stop is Sanderstead!
TIMETABLES
RIDDLESDOWN/LONDON/LUTON/BEDFORD TRAIN TIMES (SOUTHERN RAILWAY & THAMESLINK)
Residents are advised to check and confirm times with Southern Railway, Thameslink or National Rail.
Southern Rail trains to and from Riddlesdown (RDD) from 15 July 2018 until further notice.
Please note that a new temporary timetable was brought in by GTR from 3 September 2018 until further notice. See this link for Thameslink timetables (the Bedford to London timetable and the London and East Grinstead timetable). Please check with the Rail Operator, or with National Rail before travelling.

To East Croydon (ECR), & London Victoria (VIC), (trains to London Bridge (LBG), London St Pancras (STP) & Bedford (BDM).
Trains shown in red below, marked with * will be cancelled following the temporary timetable introduction on 3 September 2018.
Weekdays: All trains terminate at London Victoria, unless otherwise stated in brackets; 6.06, 06.15(to LBG,STP,BDM), 06.35, 06.42(to LBG,STP,BDM), 07.06, 07.15(to LBG,STP,BDM)*cancelled, 07.36, 07.45(to LBG, STP, BDM), 08.06, 08.15(to LBG,STP,BDM), 08.36, 08.45(to LBG,STP,BDM), 09.06, 09.15(to LBG & BDM)*cancelled, 09.36 and then 06 and 36 mins past hour until last train at 23.36.
Saturdays (To Victoria only): 07.06, 07.36, and then 06 and 36 mins past hour until 23.36.
Sundays (To Victoria only) 08.42, and then 12 and 42 mins past hour until 23.44.
To and from London Bridge/Bedford etc - No direct services Saturdays & Sundays.
From London Victoria to East Grinstead stopping at Riddlesdown.
Times in brackets are the arrival times at Riddlesdown for departures on to Oxted & East Grinstead.
Weekdays 05.21(05.49), 05.51(06.18), 06.21(06.48), 06.51(07.18), 07.21(07.48), 07.51(08.18), 08.21(08.48), 08.51(09.18), 09.21(09.48), and then 51(18) and 21(48) mins past the hour until 22.52(23.18), 23.21(23.48), 23.53(00.23 - to Oxted only).
Saturdays: 06.21(06.48), 06.51(07.18) and then 21(48)and 51(18) mins past hour until 23.53(00.24 - to Oxted only).
Sundays: 07.43(08.17), 08.11(from LBG, change at EC), 08.51(09.17), 09.21(09.47), 09.51(10.17), and then 21(47) & 51(17) mins past hour until 22.51(23.17).

From Bedford (BDM) (or Luton LUT) via London St Pancras (STP) & London Bridge to East Grinstead stopping at Riddlesdown;
Weekdays 15.49(LUT)(17.05)cancelled*; 16.06(BDM) at LBG 17.11(17.35); 16.32(BDM) at LBG 17.41(18.05); 17.21(LUT) at LBG 18.11(18.35); 17.28(BDM) at LBG 18.41(19.05); 17.56(BDM) at LBG 19.11(19.35).
From East Croydon to East Grinstead stopping at Riddlesdown:
Weekdays: 05.41(49), 06.10(18), 06.40(48), 07.10(18), 07.40(48), then 10(18) and 40(48) mins past hour until 16.55(05)*cancelled, 17.10(18), 17.25(35), 17.40(48), 17.56(05), 18.10(18), 18.25(35), 18.40(48), 18.55(05), 19.10(18), 19.25(35), 19.40(48), then 10(18)mins and 40(48) mins past hour until 00.14(23 - to Oxted only).
Saturdays: 06.40(06.48), 07.10(07.18) and then 40(48) and 10(18) mins past hour until 00.16(00.24) - to Oxted only).
Sundays:08.09(08.17), 09.09(17), 09.39(47), and then 09(17) and 39 mins past the hour until 23.09(17).
There are no longer any trains to RDD from LBG in the weekday mornings. But there are services from BDM/LBG to Sanderstead, or change at East Croydon.
Timetables are subject to change, so if in doubt, check with Southern Railway, Tfl or National Rail.
As this is a new extensive and amended timetable, the above times are shown in good faith. If anyone notices any errors will you please contact the RRA. The RRA cannot accept any responsibility for the accuracy of the above information.
Please check before travelling with the train operator and/or Network Rail
Major Engineering works at Battersea - London Victoria Station to be closed from 22 December 2018 until 2 January 2019. No Gatwick Express trains (use Thameslink instead) and all other Southern trains diverted via London Bridge.


Winter Timetable update from GTR and Network Rail as at 30/10/18
FOR FULL TIMETABLES FOLLOW THESE LINKS
The current Riddlesdown Souther Rail train timetable
(15/7/18 until further notice)
(Scroll down to the Uckfield and East Grinstead to London link - No 29)
For Thameslink trains go to this link from 15/7/18
(Scroll down to London and East Grinstead)
National Rail Enquiries: Tel: 03457 48 49 50
To check for Engineering Works on Southern
Southern Customer Services: Tel: 03451 27 29 20 (07.00 - 22.00 hrs)
Season ticket compensation scheme for Thameslink trains from Riddlesdown (Additional industry compensation); Posted 20/7/18
https://www.thameslinkrailway.com/help-and-support/journey-problems/delay-repay/additional-industry-compensation
Delay Repay compensation - Southern Rail
From 23 March 2013, the privately owned and voluntarily run Bluebell Railway will be connected to the national rail system at East Grinstead, meaning that Riddlesdown residents can get on a train from Riddlesdown Station and travel from Riddlesdown to East Grinstead and then transfer onto the Bluebell Railway.
Further information and update reports: Link to Bluebell Railway
'Tornado' Steam Train Passes Through Riddlesdown - September 2013
Local Bus Route and Frequency
Bus 412 (Arriva)
The 412 starts/ends at West Croydon Bus Station and travels along Wellesley Rd, Katharine Str, High Str, South End, Selsdon Rd, Upper Selsdon Rd, Addington Rd (stop for Selsdon), Rectory Park, Mitchley Ave, Downs Court Rd, Godstone Rd, & ends/starts at Brighton Rd, Purley Hospital.
Frequency Weekdays & Saturdays: Early; 20 mins, Peak; 15 mins, Daytime; 15 mins, Evenings; 20 mins, Late Evenings; 30 mins. Frequency Sundays; 30 mins. Up until 31/8/18.
Updated 6/9/18 - Changes to the 412 bus route from 1 Sept 2018
The new timetable from 1/9/18 is available on this link in pdf Please note that this timetable does not show all bus stops, only a selected few.
Tfl announced on 13 August, changes to the 412 bus route (West Croydon to Purley):
"We're re-routing buses as they arrive in Purley.
From Purley Road. Tesco, buses will run along Banstead Road, Foxley Lane, Pampisford Road, Christchurch Road and Brighton Road. The last stop will be stop Z1 in Brighton Road (southbound), opposite Purley War Memorial Hospital. Stops D and E in Brighton Road (northbound) will no longer be served.
There will be no change to the route and stops towards West Croydon. This is to improve reliability, as buses will have a shorter distance to travel when empty between journeys.
We're initially introducing this as a temporary change, but may make it permanent, following consultation. To match demand, we're also changing the frequency:
Monday to Saturday daytimes buses will run every 20 minutes, with three additional journeys in school day peak hours (previously every 15 minutes, with two additional journeys in school day peak hours) (the new additional school day journey will run from West Croydon to Purley in the morning peak)
The RRA have received no prior notification about these changes! The RRA and Ward Councillors will be monitoring the situation closely. If any users of this route experience problems after 1 Sept, then please tell TfL (directly) and/or e-mail the RRA, or your Ward Councillors. The Principal at Riddlesdown Collegiate has been told and he will make his own representation to Tfl.

The RRA and Ward Councillors would like to hear any resident feedback. Are the buses leaving Purley (and/or Croydon) on time and arriving in Riddlesdown as scheduled? It has been noted that the old timetable at bus stops have not been changed to the new timetable and that has been pointed out to TFL. Please e-mail any comments to us at Riddlesdownresidents@gmail.com
To Plan a bus, train, tram, tube, bike or walking journey from Riddlesdown, follow this link to the Tfl website and insert "Riddlesdown" in the "From" box. Link
London Bus Route Maps Link
Tfl - Customer Services: 0343 222 1234 - Link
Arriva London Tel 0845 300 7000 (0800-2000 Monday to Friday)
Website: www.arrivalondon.com/
London Travelwatch - posted 11/6/16
The RRA have been made aware of the London Bus Users' Online Community, an initiative set up last year by London TravelWatch that aims to give bus passengers a stronger voice. In view of the recent poor performance of our 412 bus service (or other routes), residents may want to voice their concerns?! If you want to find out more please follow this link.
(Sources: Trains: Southern Railway; Buses: Transport for London (TfL).
Timetables are subject to change, so if in doubt, check with Tfl or the Operator(s). The RRA cannot accept any responsibility for the accuracy of the above information.
CLICK HERE FOR INFORMATION ON FARES AND TICKETS IN LONDON
All London Buses Are Now Cash Free.
Changes to train fares and Oyster/Contactless from 4 January 2016.
Oyster and contactless can now be used at stations from Riddlesdown (change at East Croydon), Purley and East Croydon to Gatwick airport (including Horley, Salfords, Earlswood, Redhill and Merstham) as well as within virtually all stations in London. Further details on this Tfl link
However groups of three or more people travelling together may still find it cheaper to buy a paper ticket. Accompanied children under the age of 11 can now travel free on National Rail in the zones as they do on the buses and Underground. Unaccompanied children will still need to have an appropriate Oystercard or buy a paper ticket. Tfl link
Other children can also travel free and others at a discount with an Oyster Zip card. For information on how to apply for an Oyster Zip card for children Tfl link
Since 16 September 2014 you'll also be able to use contactless as well on Tube, Tram, DLR, London Overground and most National Rail services in London. Further details on this Tfl link
This Pass is supplied by the London Councils (all the London Boroughs and City of London) to residents of London.
There are two types of Freedom Pass.
1. The Disabled Pass is available to anybody with a qualifying disability (see website for full list) who lives in a London Borough and is part of the National disability scheme.
2. The Older Persons Freedom Pass is available to residents of a London Borough who have reached the state pension age.
Validity London :
You can use your pass on most journeys across London but there are a few exceptions to when and where you can use your card. Further details
More information and how to apply;
http://www.londoncouncils.gov.uk/services/freedom-pass
60+ Concessionary Travel Scheme:
The former London Mayor, Boris Johnson, introduced a new 60+ Concessionary Travel Scheme using a variation of the Oystercard from 1 November 2012 for those people over 60 years of age who no longer qualify for a London Freedom Pass. The pass will have the same validity as a Freedom Pass. Further details from the Tfl website or Tfl application page
More information on all Oyster Adult Discounts and Concessions from Tfl website
New gas mains works to northern and southern areas of Riddlesdown - more information on this link on our website
20 mph speed limits to be brought in to all of Croydon (Areas 3 - 5)
Updated 17/3/18
Note; Area 5 (Riddlesdown & Sanderstead) new 20 mph speed limit came into force from 12/3/18 - Link
Croydon Council's Traffic Management Committee on 9 May 2017 agreed to implement 20 mph areas to all streets in Areas 3, 4 & 5 in Croydon except mainly Class A & B roads (where mot accidents and injuries/fatalities occur), despite many objections from the public (Riddlesdown is in Area 5). Officers recommended approval in their report to Councillors but the Labour Councillors agreed with the Officers. The Conservatives voted against the implementation of the scheme.
It was part of the report by Officers (Annexe 3) that some streets in our area might stay at 30 mph (i.e. Riddlesdown Rd, Mitchley Hill and Purley Downs Rd), and others could change from 20 to 30 mph. However it has been confirmed by the Council that the suggested changes put forward by Officers (from 20 to 30 mph and some 30 to 20 mph) to the TMA Committee were NOT approved. This means 30 mph (or 40 mph on some sections of the A23) will only apply to most Class A or Class B roads only. In the Riddlesdown area, this will be 30 mph only, on the A2022 (Downs Court Rd, Mitchley Ave and Rectory Park only. All other streets in our area will be 20 mph. The Committee papers are on this link. Scroll down to Item 7.
In total, 3,357 people objected, (with 103 in favour) and in a combined total, there were 18,862 objections with the various reasons why the scheme shouldn't be implemented for Areas 3,4 & 5. The "in favour vote" was low because the Council said it was a presumption in favour of the scheme, unless they received many objections. However, they would not say previously, how many they would accept as to the number of objections.
No mention was made in the report about the way the consultation process was undertaken, with residents unable to either support or object to the scheme; i.e a vote, which the seven southern RAs had raised, and also no mention was made of Councillor objections.
The Conservatives did have this TMAC decision "called in" as not being democratic on the consultation process, and requesting the Council act on what residents have said in their objections. This was put to the Scrutiny Committee on Wednesday 24 May 2017 but it was rejected by that Committee.
More information is on the Croydon Council's website
Mitchley Ave/Rectory Park - A 2022 (Road surface condition)
Updated 28/4/18
The RRA have been corresponding with Croydon Council for a number of years now about the poor condition of the A2022 (Mitchley Ave and Rectory Park). The Council did try and get funding from Tfl last year for re-surfacing both Rectory Pk & Mitchley Ave but this request was rejected by Tfl.
Since then the condition of Mitchley Ave in particular, has deteriorated even more, with many potholes, huge tyre depressions/ruts from buses and HGV's, and a general rough wearing surface in places.
We have received a number of written and verbal complaints from residents about the condition of this road surface.
We did also point out to the Council that although they resurfaced the bend on Mitchley Ave to Rectory Park (following pressure from the RRA - see below), with a better skid resistant surface, another accident did occur in mid March which again took out a lamp column and other street furniture. We again raised our concerns to the Council that safety barriers need to be erected on this bend to protect pedestrians/school children who are walking on the footway, if a vehicle overshoots on this bend.
We have also raised with the Council about the continuous damage by HGV's to the grass verge on the corner of Barn Crescent and Lower Barn Rd. Some of the latest damage was witnessed, and was caused by a Building Company lorry delivering to a house opposite the Barn Cres junction in LBR and these details have been passed onto the Council. We have suggested a more permanent solution is needed here and not just to keep laying type 1 sub base.
We will keep you updated with any response from the Council!
Mitchley Ave/Rectory Park - Accidents
Update 29/11/17
The resurfacing works to lay a better anti skid surface were completed overnight, (28/29 November 2017) on the bend to Rectory Park/Mitchley Ave. This is following extensive pressure from the RRA to Croydon Council, to do something at this location due to all the accidents (at least eight) since November 2016.
Hopefully this may now reduce the number of accidents on this bend, especially in the wet. Please let the RRA know if further accidents occur at this location and we will take it up with Croydon Council again.
There is now also a speed visor (displaying speeds above 30 mph), on the down section of the hill to Rectory Park, before the bend.
Update 16/9/17
Another accident on 15/9/17, at the bend on Rectory Park/Mitchley Ave. This is at least eight accidents now since last November (we recently learnt about another one on 20 May 2017). The RRA have advised the Council, and the sooner they lay an anti skid surface the better (which the RRA have been asking for, for many months now). It might not solve the problem but it may help. Thanks to Lynne Dennis for the photo.
Update 2/8/17
The RRA have been made aware of yet another accident on the bend of Rectory Park/Mitchley Ave at 6am on Sunday 30 July. We are told that two cars coming down the hill were involved and possibly the second car went into the back of the first car. The Police did attend. Yet again the road was wet, with heavy rain overnight Sat/Sun! This is now the sixth accident since November 2016, on this bend and all in the wet!
We have again written to the Council and made them aware of this latest accident and asked them when further works are to be done to make this section of road safe. Our e-mail has been acknowledged and we await a full response.
We were advised on 17 May, following a written question from Ward Cllr Tim Pollard to Cabinet member Cllr Stuart King and Stuart King replied;
"I have asked our engineers to consider the introduction of anti-skid surfacing on this bend and include this in their current programme of works. I have also asked that officers look at what other measures could be introduced to help address this problem in addition to the following measures which we have already introduced at this location:"
We have also raised with the Council about the following items/repairs that are required:
We are told parking is taking place on Mitchley Ave close to the bend. Whilst it may not be illegal to park on this road with central cross hatching, it is perhaps inadvisable, bearing in mind the fairly narrow width of this Class A road. Following requests by residents we have asked for something to be done to deter this. Accidents have happened here because of parking.
Nothing has been done to re-instate the anti skid surface on the zebra crossing in Mitchley Ave, by Lower Barn Rd (of which only part of the anti skid surface has been replaced) going towards Selsdon.
Mitchley Ave generally is now in a poor state of repair with numerous depressions and a poor wearing surface in many places. We have asked if it is going to be re-surfaced soon.
Nothing has been done to repair/renew the Armco barrier on the bend in St James' Rd, which was damaged more than a year ago, following an accident.
We will advise when we get a full reply!
Update 2/5/17
Yet again there has been another accident on the bend of Rectory Park/Mitchley Ave on Sunday evening (30/4/17), when the road was again wet (red car in photo)!
We are told this is now the 5th accident in this vicinity since November 2016. Three accidents have been in the wet, with motorists coming down the hill and losing control on the bend. Two accidents have occurred on Mitchley Ave going towards the hill in Rectory Park because of parked vehicles near the bend (silver car in photo is one accident). Accidents close to the bend also seem to be happening more regularly because of parked vehicles on Mitchley Ave.
The RRA have had a lot of e-mail correspondence with the Council Officers and the Labour Cabinet Member for Highways since last November but the Council are not prepared to put in, an anti skid surface, armco crash barrier, vehicle activated electronic "Slow down" signs etc, before the bend, etc, as requested by the RRA. The Council believe the white dragons teeth markings and other signage, chevrons and centre cross hatching they have laid previously, are sufficient!
The RRA have written to the Council again after this latest accident, to highlight the serious issues here (there have been numerous accidents on this bend and closeby over the years) and we hope they will do more road safety works soon, before a motorist, passenger, or a pedestrian is killed. Cllr Tim Pollard (Sanderstead Ward Cllr) has also now raised a Council question (2/5/17) about the safety on this bend with Transport Cabinet Member, Cllr Stuart King and asking him to intervene.
The Council have also told us they have not managed to secure funding from Tfl to resurface both Mitchley Ave and Rectory Park this year. So we are going to have to put up with all the ruts and rough road surfaces on these two stretches of road!!!
Photos below courtesy of Veronica Roadnight.
Update 24/11/16
Yet another road traffic collision occurred on 16 November at 6.30am, in Mitchley Ave on the bend with Rectory Park
It was raining again at the time and most incidents seem to occur here, when raining. Yet again a vehicle has come down the hill of Rectory Park and lost control on the exit and taken out the lamp column (for the second time in 3 months) by the woodland about 75 metres after the bend.
Photograph above courtesy of Helen Leonard
Following this latest accident, the RRA have had extensive correspondence with two Council Officers since (copying in local Councillors and Cllr Stuart King the Labour Cabinet member responsible for Transport and Environment and Riddlesdown Collegiate). Cllr King has responded that he will take this up with the Director of Streets at his next briefing with him.
The RRA made a number of suggestions to Officers, which included improving the road signage, laying an anti skid road surface just before, on the bend and just after, installing an Armco barrier to protect pedestrians and additional chevron boards. Repositioning the lamp column damaged twice now, and additional road markings were another request. We also pointed about a number of other road defects locally.
The Council Officers have rejected virtually all our suggestions! They did say they have made a number of additional safety measures at this bend over the years.
However, Officers have said they will look to install another "SLOW" road marking just before the bend, and installing white marked dragons teeth on the road, to highlight the danger ahead, look at the signage, and check on the condition of the road markings. Something, but overall not a good result and the RRA will keep pressing the Council on this. In the meantime, if any other further incidents occur here, please post it on our Facebook page and with photos if possible (or e-mail us ) and we will refer them to the Council again.
Regarding the speed camera further along in Mitchley Ave (near the shops) we have been told this is to be replaced soon. Safety cameras are controlled and maintained by the London Safety Camera Partnership (LSCP), which is made up of Transport for London (TfL), the Metropolitan Police and Her Majesty's Courts Service (HMCS). The LSCP have informed Officers that the safety (speed) camera was removed following damage caused by vandalism, as well as all the road speed sensors being removed when the section of road by the camera was re-surfaced a few years ago. The Council have no control over these cameras.
New Cycle Stands/bollards, a new dropped kerb and a new pedestrian refuge to Mitchley Ave by Riddlesdown Rd
New 18/4/18
The RRA have managed to get Croydon Council to attend to some highway issues over the last few weeks and another one is in the pipeline!
Two new cycle stands have been installed by the shops in Lower Barn Rd, and two new concrete bollards adjacent, to try and stop vehicles driving over the grass verge. We did ask for some cycle stands at the Mitchley Ave shops as well but they have not appeared as yet!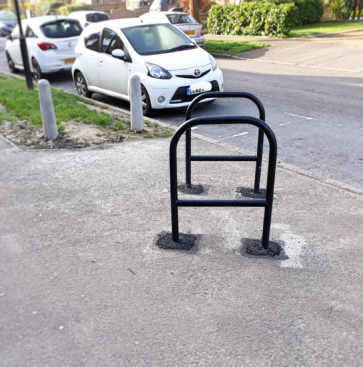 Also at the bottom of Copthorne Rise, a dropped kerb has been installed on both sides of the street by the shops for pedestrian/disabled/buggies use. It also an offence to park in front of a dropped kerb (as well as on the double yellow lines), so the Council Enforcement Officers can issue a PCN for this offence as well. The Council are aware of the serious parking problems at this junction and along the front service road to the shops (and also parking on the grass verges).
The RRA also asked the Council last summer, if they would consider installing a zebra crossing and/or pelican crossing on Mitchley Ave near to the Riddlesdown Rd junction as this busy road, by this junction, is used extensively by Riddlesdown Collegiate schoolchildren using the bus stops and also by our residents.
The Council have responded that the close proximity of the bus stops and nearby driveways would not allow a zebra/pelican crossing to be installed but they have agreed to install a pedestrian island refuge, just east of the Riddlesdown Rd junction. The refuge island will be similar to the one by the Coombe Wood HiIl junction. It is not ideal but is better than nothing. We have asked the Council to ensure the new island refuge does not impede vehicles wishing to overtake stationary buses at the bus stops. This work will be undertaken by the Council this financial year.
New 4/1/18
Following a vehicle hitting and killing a deer in Mitchley Hill last October, the RRA again contacted Croydon Council about erecting deer signs on some streets in Riddlesdown (we last asked in 2014).
We are pleased to say the Council have now listened and three deer warning signs have been erected locally. The one in this photo, is in Mitchley Hill. The other two are in Rectory Park and the top of Downs Court Rd.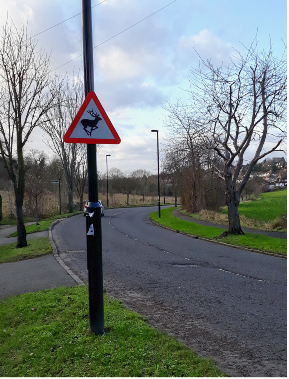 Dartford Toll
The Dartford crossing toll is increasing from 1 October 2108 but only if you have the Dart Charge account. Going up from £1.67 to £2. Croydon Advetiser
M20 closure for two weekends near Maidstone
Information from Highways England
"We will be closing the M20 between junctions 4 at Leybourne and 6 at Maidstone on the following weekends to allow for the demolition and rebuilding of Teapot Lane Footbridge, near Aylesford Station.
Friday 14 September (evening) to Monday 17 September (morning).

Friday 9 November (evening) to Monday 12 November (morning).
For more information and diversion routes, please see this link"